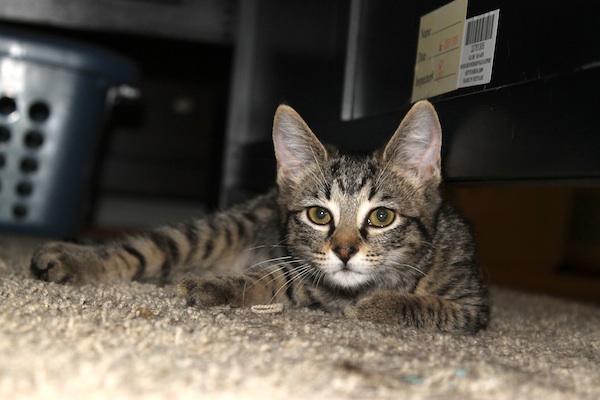 For the last seven weeks, my husband, our animals and I have been working to prepare Sandy, kitten extraordinaire, for adoption. The first week was probably the toughest – for both her and our crew – as she spent countless evening and early morning hours caterwauling from our master bathroom.
As she became more accustomed to our daily routines, we slowly introduced her first to our feline bunch: TicTac, Pixel, Sushi and Kyo. While Pixel and TicTac were grumpy and standoffish at first and Sushi ignored her entirely, Kyo seemed genuinely thrilled to have been gifted a new playmate and the two of them became inseparable. (Kyo is one of the kittens from the fab five we fostered last year, so I was thrilled to see him get along so well with Sandy.)
Sandy's introduction to the puppies was a little more interesting in that Aries whined and ran away the first time Sandy fluffed up and hissed at her. Aries never quite got over her fear of our last litter of foster kittens – something to do with them trying to scale her legs with their tiny kitten razor claws. Jackie, however, was quite curious about our newest housemate and wanted nothing more than to cover her in kisses and nibbles, much to Sandy's distress.
After a week or so of daily reintroductions and supervised playtime, the gang accepted Sandy as one of the family, and we were able to keep Kyo with her during the work day as foster-sib, babysitter and playmate. The weeks passed quickly and soon Sandy weighed enough to get her rabies vaccination and spayed. While she wasn't particularly happy about that last procedure, she healed quickly, and was soon scaling the cat tower with the rest of the crew. TicTac, Pixel and Sushi finally warmed up to her, and Sandy eventually stopped jumping every time the ice maker made weird noses or the puppies whined.
Perhaps the biggest challenge of being a foster mom is the day you say goodbye. You may accuse me of projecting human emotions on my pets, but the entire crew knew something was up today, although perhaps Chris and I are to blame. It's hard not to get a little emotional at the thought of Sandy moving on to her forever family, but we're thrilled that she's going to be going to be part of a wonderful family. My coworker Tim's sister Lisa has decided to make Sandy part of her family, and she has two children (and a cat) who are very much looking forward to calling Sandy theirs and have promised to send pictures of her as she continues to grow.
With a house full of animals already, the ability to foster an additional pet was thanks to the support of First Coast No More Homeless Pets' kitten adoption program. Chris and I provided the housing, while they covered all of her check-ups, vaccinations, spay and microchipping – procedures that were covered in part  by the $25 adoption fee and by donations. If you're interested in finding a kitten or cat to call your own, First Coast No More Homeless Pets partners with the Best Friends Animal Society to bring adoptable animals to the PetSmart on Southside Blvd. on Saturdays. You can also visit the FCNMHP Mandarin Adoption Center at 10503-19 San Jose Boulevard Monday through Fridays from 1 p.m. to 7 p.m., Saturdays from 10 a.m. to 6 p.m. or Sundays from noon to 5 p.m.