Chris and I decided to enjoy the wonderful weather this afternoon by taking the puppies on a hike. We normally trek out to the beach or hit a regional park, but today's we decided to head out toward Fort Caroline to find an old favorite of mine that I used to hike during my childhood – the Willie Browne trail.
It took a little bit of patience, as the Fort Caroline area looks a little different after fifteen years – but we eventually found the entrance to Theodore Roosevelt area of the Timucuan Ecological and Historic Preserve, and from there, finding the Willie Browne trail head was easy. Once Jackie and Aries realized we weren't going to the vet, it's was pretty difficult to contain their excitement as we unloaded them from the car.
The views we had on the trail today didn't disappoint – the sun was shining, the wind was gentle and the pups were appreciative of the chance to romp and stretch their legs.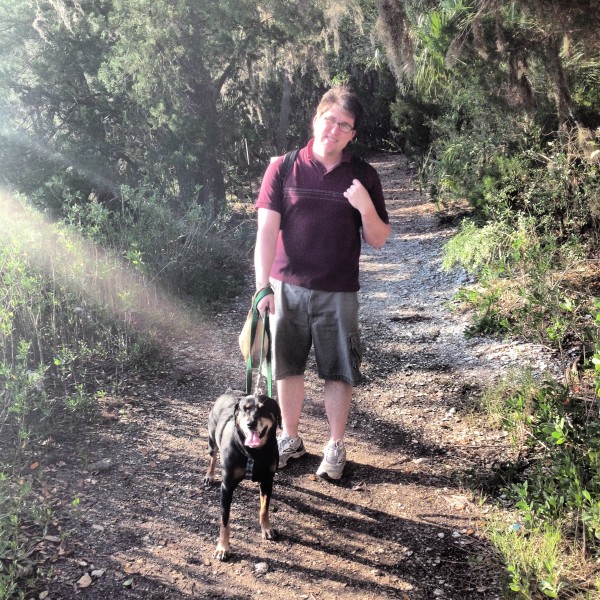 Aries couldn't decide what excited her most about the trail – the smells, the people or all the creatures that kept out of sight, but made soft rustlings through the underbrush.
When we hit a break in the tree line, Jackie ran out with me onto the salt marshes, not realizing in her exuberance that low tide meant that the "ground" was really soft mud. She was halfway across one of the flats, when she sunk in deeper than she wanted to and made a mad scramble to get back to packed earth. It was ridiculously awkward and adorable.
One of the coolest parts of the Willie Browne trail (in addition to the diversity of the landscape and the historic foundations of Willie Browne's cabin and his family cemetery) is the observation deck the looks out over the salt marshes. It ended up being a great place to take a break, grab some water and just take in the natural beauty that north Florida has to offer.
All said and done, we wandered about 2.5 miles (or roughly an hour) through the trails – and the puppies were pooped by the time we made it back to the car. Chris and I are planning another trip soon, just the two of us, so we can make it through the connecting trail that crosses over the Spanish Pond and Fort Caroline. Definitely couldn't have asked for a better day.
Have any hiking spots in North Florida you'd recommend us checking out for our next outdoor adventure? Leave your recommendations in the comments below!