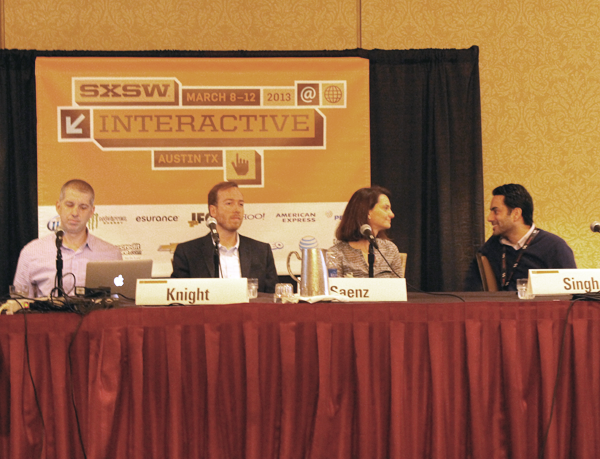 This particular panel at South by Southwest (SXSW), was in high demand and a very insightful look into the world of crowd sourcing by team members from PepsiCo and Frito-Lay, two brands that have had obvious success and received tremendous fan engagement and goodwill from their own crowd sourcing efforts. Moderated by Todd Wasserman from Mashable, the panel included:
Jen Saenz, Senior Director of Brand Marketing for Frito-Lay
Shiv Singh, Global Head of Digital for PepsiCo
Kevin Knight, Creative Strategist at Facebook
According to our panelists, even though crowd sourcing has been around for hundreds of years (with the Oxford Dictionary cited as the first recorded crowd sourced initiative), it's hotter than it's ever been. What's different now is how and why companies are applying it, and the technology they use to engage personally with fans.
But what is crowd sourcing? It's when you look to a larger audience to solve a defined problem.
Why crowd source?
Our industry has changed dramatically over the past fews years. Traditional marketing is not as effective as it once was, and for marketing budgets that have felt the strain of the recession, digital tools have proven an effective method of stretching limited budgets. That being said, even brands like Frito-Lay and PepsiCo feel as though marketing budgets can never be big enough to reach the audiences they need to reach, which is why they also rely heavily on advocates to share message.
Besides the budget challenge, research shows that our traditional marketing efforts are less effective than they once were. Why? In a world where everyone has smartphones, laptops, tablets, blogs and social networks, everyone is their own brand/marketing channel with their own unique circles of influence. To reach this new type of consumer, the more screens you can be on, the bigger your ROI will be. And this shift from anonymity to authentication on the web has been a change that's encouraged a shift toward the crowd sourcing model.
How is crowd sourcing beneficial for brands?
You're giving your fans a voice, creating a more personal relationship and truly learning what resonates with your audience. Crowd sourcing (when done well) also leads to better marketing, because you have better information on your customer and how they relate to your brand. And by giving them free range in how they respond, quite often you tease out a more in-depth understanding of why they love their brand, which in turn allows you to create more powerful, relevant messaging.
How do agencies fit into the crowd sourced equation? Should they be concerned?
Marketing has evolved dramatically. It goes beyond making a great commercial; it's about building that emotional buy-in from consumer to brand. The best agencies embrace that, and help brands become a bridge to the collective culture of their consumers.
From the standpoint of both Jen Saenz (Senior Director of Marketing for Frito-Lay) and Shiv Singh (Global Head of Digital for PepsiCo), it is agencies that handle community management activities over traditional channels have better, that have more informed creative, which in turn, leads to more innovative ways to reach the target audience.
Additional Takeaways About the Crowd Sourcing Process:
A crowd sourcing strategy should reflect the needs and behaviors of your audience/community.
Know the limits of your platform. (Twitter is great for voting, but not so great at submissions.) Play to each platform's strengths.
Guide the fans through crowd sourcing, don't give them the keys. Don't risk losing your brand identity.
You have to trust your fans. You can't go into defensively. Plan for what you'll do if something goes wrong – manage the risk.
Crowd sourcing is catchy. Do it a few times, and consumers start to associate participation with your brand.