This whole project started because I was browsing Pinterest on my phone while Chris and I were watching Full Metal Alchemist: Brotherhood this evening (what else are credits good for?). I stumbled across an image that led me to the blog, Art with Mr. E, who chronicled one of the lessons he holds for his students to teach them shading. Following his instructions, I created my own piece of art, with the exception of using crayons in lieu of colored pencils as I seem to have misplaced them.
His blog post contains a great step-by-step tutorial that walks you through the process – it's super simple, but a little time consuming. 🙂
I really enjoyed watching the piece take shape. Hard to believe this all stemmed from one wavy line with eight points dotted across the line at varying intervals.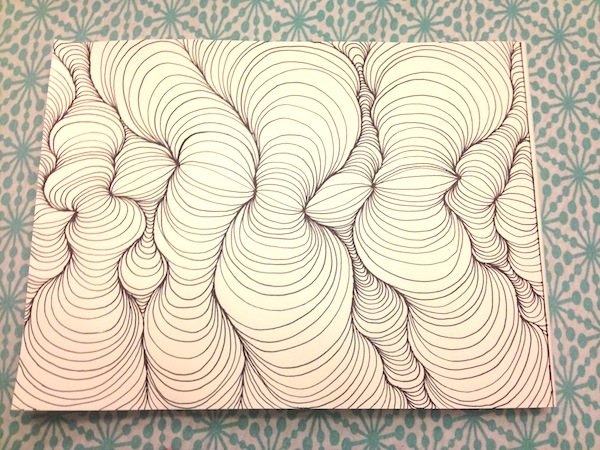 Think I'll have to retry this art project when I find my colored pencils. It was a little difficult to apply the shading explained in the tutorial using crayons.
All said and done, it took me nearly three hours to completely sketch and color this piece, but it was a great way to lose myself in a repetitious task and clear my head. Coloring and crochet both have a lot in common that way.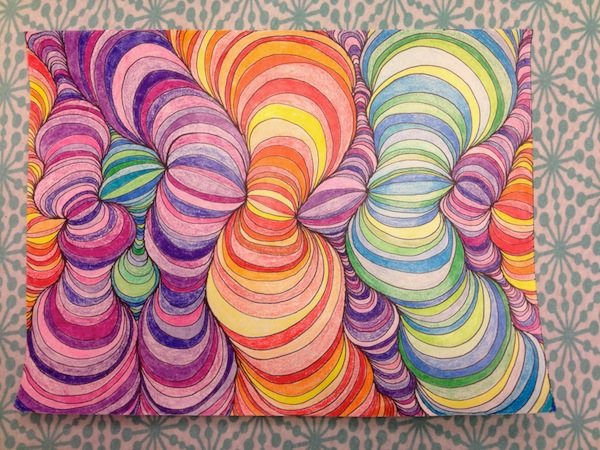 Have a hobby of your own that helps you find your zen? Share it in the comments below. And if you decide to try your hand at creating your own piece of art from Mr. E's tutorial, I'd love to see how it turns out!