My dad, sister and I have a joke about the fact that we think differently than most people. Whereas most people's thoughts logically progress from Point A to Point B and then to C, D, E and beyond, we're more like a stone that you've skipped across the surface of a pond. While we cross over those same points as everyone else, we only touch the surface every other point or so, which sometimes makes it difficult for others to follow our thought progression. I only mention it because the manner in which tonight's art project unfolded serves as a real-life example of that process of thought progression come to life.
When it comes to home décor, it's probably safe to say I have an eclectic sense of style, which probably explains why I'm so drawn to the home accessories (and to be perfectly honest, EVERYTHING else) at Natural Life. I pop into their store semi-frequently and often stalk their social channels and website to check out their latest stuff. One of the things that I've really had my eye on lately is the wall art pictured below. (It will be coming home with me soon – it just doesn't know it yet.)
Earlier this week, I finished a crochet project (yes, it does occasionally happen). The project stemmed from a pattern for an infinity scarf that I'd "pinned" early last month. Last night, we re-watched the Hunger Games, and I took the opportunity to finish the pattern. It's teal, of course, in honor of my beloved Jacksonville Jaguars. I'm hoping it will come in handy during some of our winter games, although in Florida, one can never tell how winter weather will be, but I digress.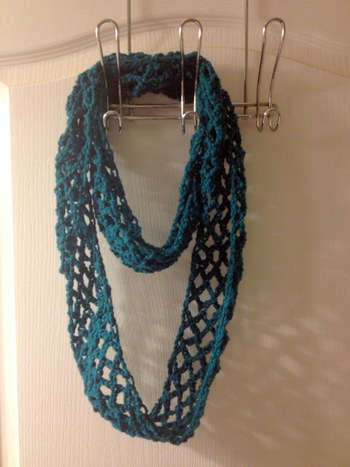 I also made time to draw a little bit this week and worked up a quick sketch of an owl (only my second ever drawn to-date) with some new Crayola colored pencils I picked up during this time of year's legendary back-to-school savings. (See, you don't have to have children of your own in order to get excited. Go running down the aisles and pick out your own BTS stuff. You'll be glad you did!) 🙂
But getting back to the subject of this evening's project, I knew I wanted to do something crafty, but was at a loss for what to do. Then I remembered the rustic print from Natural Life,  was inspired by its charming quote, and decided to try my hand at making  my own bit of wall art (although narrowing down a single quote to use for the painting was tough).
My supplies?
Used canvas from an earlier failed art project (you can always recycle them, if things don't work out!)
Craft Smart acrylic paints in purple, black, white and neon pink
Alphabet sponges (picked them up  ages ago from the Dollar Tree
Paint brushes
Clean palette
Jar (to hold water to clean my brushes)
Lots of paper towels (I tend to get paint everywhere.)
Steps:
To kick off the project, I grabbed the above-mentioned used canvas and painted a purple base coat over its predecessor.
While I was waiting for the base coat to dry, I amused myself by making a little nonsense video and posting it to my Instagram account.
Once the purple coat was dry, I used a rough brush to add a neon pink coat, and before the paint was dry, took another rough brush without paint to texture the surface and blend the two coats.
Using a small brush, I painted the edges of the canvas black, then splattered white paint across the top of the canvas to add some interest to the purple/pink background.
So what about the quote?
Here's where we get to the "geek" part of the post. In thinking about what I wanted to place on the canvas, I began reflecting on  some of my favorite quotes from movies and books I feel in love with during my childhood. Given the size of the canvas (and my letter stencils), I knew it would have to be something short and to the point.
The solution?
My favorite quote from Buckaroo Banzai: Across the 8th Dimension, "No matter where you go…there you are." (A close second would've been "Everybody Need See Buckaroo," but I didn't think it had the same inter-dimensional appeal, although if you haven't seen Buckaroo Banzai, you REALLY should.)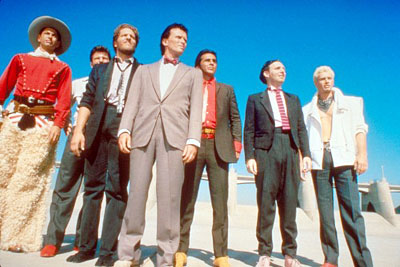 "Who is this Buckaroo Banzai?" you ask. Excellent question. The multi-talented Dr. Buckaroo Banzai is a physicist, neurosurgeon, test pilot, and rock musician, who has to save the world by defeating a band of inter-dimensional aliens called Red Lectroids from the Planet 10. The novel  and movie fuse the genres of action/adventure with science fiction while weaving in elements of comedy, satire, and romance.
Of course, the story would be incomplete without the Hong Kong Cavaliers, Buckaroo's trusted team and band (pictured above). They are:
Rawhide, Buckaroo's lieutenant who also plays piano.
Reno Nevada, who plays saxophone.
Perfect Tommy, who plays rhythm guitar, and is generally accepted to be perfect. (My favorite, btw.)
Dr. Sidney Zweibel, aka "New Jersey," a neurosurgeon, and a colleague of Dr. Banzai's from Columbia. He sings a little, dances and plays piano. (Played by Jeff Goldblum in what I believe to be one of his best roles.)
Pinky Carruthers, one of Buckaroo's Blue Blaze Irregulars who also plays bass guitar.
If this description has just confused you more about why you should care, you could always check out the movie's trailer below (although to be honest, unless you watch the movie, I'm not sure it helps):
And because, I've probably kept you long enough – the finished work! I was pretty happy with how it turned out, although if I do another quotes canvas, I'll likely make some tweaks to the process. It could be fun to do a whole series using my favorite quotes from Moonheart, Lord of the Rings, Doctor Who, Harry Potter and more. Which begs the question, actually, what's your favorite quote?